About Dr. Ashraf H. Darwish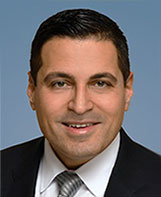 Dr. Darwish is a board-certified fellowship trained spine surgeon specializing in minimally invasive spine surgery and outpatient spine surgery. He was trained under Dr. Guyer at the Texas Back Institute, who performed Tiger Wood's lumbar fusion. Dr. Darwish performs a multitude of minimally invasive surgeries including endoscopic discectomies, transforaminal lumbar interbody fusions, lateral lumbar interbody fusions, and anterior cervical discectomy/fusion. These surgeries significantly decrease the trauma of surgery to tissues along with minimal bone removal to achieve relief of neck, back, arm and leg pain. These surgeries can be performed in an outpatient setting allowing for quicker recovery times in the comfort of your own home. He also operates in the hospital setting for appropriate patient populations.

Dr. Darwish is driven by conservative management. Our philosophy is to return you back to your life without the need for surgical intervention. There is a plethora of treatment options that can be offered to reduce pain. Once these options have been exhausted, Dr. Darwish offers the most appropriate and least invasive surgical option.